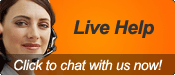 Text Polling / SMS Voting Service for Television
Broadcasting real-time text polling results attracts more viewers and sponsors.
Here is a quick example: Let's say the question of the day is: "Do you like mom's apple pie?"
If YES, then text the letter Y to the number 12345
If NO, then text the letter N to the number 12345
Within seconds, viewers grab their cell phones and begin texting their opinion into the station. Instantaneous real-time results are compiled online and integrated with a news scroller or sidebar so viewers can see all the votes being tabulated.
Your response rate will be higher than ever. Why? Because no one has to leave the couch or lounger to vote. No one has to call. No one has to send an email. Your viewers' mobile cell phones are within arms reach and it only takes a few short seconds to vote. The excitement will only intensify as they watch their votes being broadcast live -- your audience and your anchors will be seeing the results at the same time!
Now you can poll your audience about anything, at anytime -- engaging them in ways that would have been impossible just a few years ago.
There are strong psychological factors at play when your viewers can see the results for themselves: They know their opinion counts, they know they can make a difference, and most of all, they understand that you really care about what they think. That bond improves your brand, makes the news more interesting, and attracts a larger audience.
People are texting more than talking, using text as the primary means to communicate in their personal lives.
Texting is the preferred way to communicate because it's fast, easy and discreet. Text SMS (short message service) voting is nothing new. You see it all the time on network reality shows. But what you don't see are the instant results being broadcast. (The vast majority of shows ask viewers to wait a day or two to see results, and even then, the audience rarely, if ever, actually sees the voting totals.)
That's all about to change and television stations and news departments are about to take "audience participation" to a new level, thanks to technology and being able to broadcast live. Quite simply, real time broadcasting of text polling results on television is transforming the way network and local TV stations engage and interact with their audiences.
The idea of television stations sending traffic and news text alerts is nothing new. But posting live text polling results is ushering in a whole new era of audience interactivity.
Now you can ask viewers to weigh in on the pressing issues of the day. With virtually no ramp up time required, you can just log into your secured text polling account online, and with just a few clicks, launch your next polling program. Ask your question on the air, and watch what happens -- votes from listeners will immediately be registered and the system will update the results every 12 seconds. Your polling questions can be multiple-choice, or simply yes or no. You have the flexibility to design your text voting program any way you want, and have some fun with it at the same time. Everything is geared with the viewer in mind.
Advertisers prefer sponsoring interactive services.
Why are advertisers attracted to text polling? Simply because their name is on the screen during the newscast, right next to the vote tabulation bar. Viewers can't miss it and advertisers love the idea of being part of something that interacts with the audience. Moreover, advertisers get their name in the text message that is automatically sent to the voters as an acknowledgement that their vote has been received. It's a win-win-win situation -- for the station, the sponsors and the viewers.
Text polling can boost ratings by enabling your viewers to actively participant in your broadcast.
Poll your audience on any issue, at any time, and show real-time results.
No hardware or software necessary. Everything is online and "in the cloud," accessible 24/7.
Fast, easy, set up.
Attract new viewers, especially younger ones, who are looking for new ways to engage themselves and have their opinions counted.
Real-time text voting brings "audience participation" to a whole new level, redefining how stations bring interactivity to their news broadcasts.
Strengthen advertising and sponsor support by offering a new polling venue that can be displayed anytime during your news broadcast -- giving advertisers a larger audience and longer exposure. You can also automate a text response that acknowledges the vote and includes the sponsor's name.
Texting is the most favored way to communicate. 85% of adults have mobile cell phones and are texting more than talking.
Your audience can text their votes from the comfort of their chairs. No need for anyone to go to a computer to cast a vote.
Data is safe and held in a highly secured and redundant environment.
Tremendous cost savings and value with monthly or prepaid plans.
Excellent customer service to help you every step of the way.
VOTER SURVEY SERVICE FOR ELECTIONS
Voter information and data are at the heart of any successful campaign effort. Candidates need to know what voters are thinking and how they are reacting to the latest news and trends. Because timing is everything, conducting phone surveys gives you a tremendous edge. With data in hand, you can quickly assess the current situation and take appropriate action to secure a dominant position in your race.
POLLING ASSOCIATION MEMBERS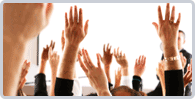 Monarch's phone surveys are all about giving people an active voice and compiling accurate feedback. Nothing is more important, especially with associations and non-profits that are dependent on the support of their memberships. Whether your association is large with millions of members, or a smaller community-based non-profit, give people a chance to provide feedback and have an active voice. The direction of your organization will be more in sync with desires and hopes of the members you serve.
CUSTOMER SATISFACTION SURVEYS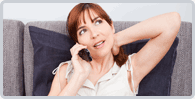 Your customers want to know they are appreciated and valued -- they want to know their opinions count. Companies and organizations that reach out and solicit thoughts and input are the ones that are the most successful and instill the highest level of confidence from their customers and associates. Phone surveys are an efficient and cost effective tool for gathering valuable data from your customers, to gauge their level of satisfaction, which enables you to make continuous improvements that will give your business the edge.
RESEARCH CURRENT TRENDS AND ISSUES
Get a handle on the latest trends in the marketplace by using phone surveys. Surveys are a great way to gather consumer intelligence and react to market forces quickly, giving you a distinct advantage over your competitors. The key to success is getting accurate information first. That's why researching current trends using the latest telecommunication-survey technology can greatly enhance your outreach and research programs.