Our voice broadcasting software enables you to use online controls to quickly and easily send voice messages to hundreds or thousands of your contacts instantly. Better yet, you don't need any special hardware, or software, to begin — everything is online and ready to go.
Our Services are Easy to Use
While we are not the only voice broadcasting service, we make it easy for you to get up and running right away. You do not need to have any special technological knowledge in order to use our system, and if you prefer to have us manage your calls for you, we can do that too. We offer both self service and full service options so that everyone is covered regardless of how they feel about technology or their time constraints. It's your choice!
Instantly Set Up Your Account
You can set up your account with us immediately by contacting us at 888-387-8636. Once we have some basic information from you, we can provision your account immediately and provide you with your login information and instructions. If you need assistance with anything, we are available to help you anytime. If you like, we help you through the simple process of designing and testing your voice broadcast. We can then listen to your message and will make suggestions to ensure you are creating the perfect message, at no additional charge.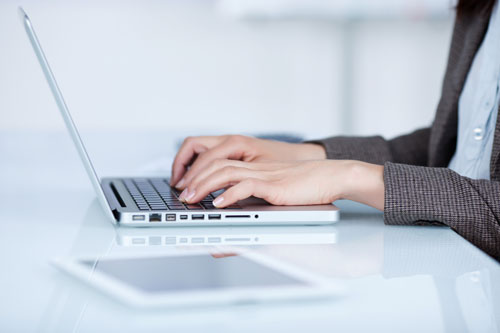 Easily Manage Your Contacts
Simply upload your existing contact list as a spreadsheet, like excel, through a simple process that allows you to browse your computer for your list and click "upload". Or, if your list is quite short, you can choose to manually enter your contacts into our system one at a time. The only information that is required is the phone numbers. You can choose to add additional contact information, if you want to better track your contacts and get more specific data. If you use a specific list repeatedly, but you need to add or drop a few contacts, you can easily edit your lists within our system. Or if you choose, you can just upload a new list – the choice is yours. You can have an unlimited number of lists in your account as we automatically save them for you. So, when you are in a rush to get a message out, your lists will always be accessible to you immediately.
Record Your Message
Once your contacts have been added or you have uploaded your contact list, you can record your message using one of two methods. You can record your message by calling into our automated recording line and following the easy to follow prompts to record. If you use this method, the recording will automatically and immediately put right into your account. Please remember that it is preferable that you use a landline to call into the automated recording line, as will produce a far superior recording than one made from a cell phone. If you already have an audio file recorded and saved on your computer, you can upload it into your account by a simple process of browsing for it on your computer and clicking "upload". The recording will then appear in your account. If you use this latter method, be sure to create the recording with as little background noise as possible, so that your recording is clear.
Initiate Your Voice Broadcast
You can choose to send your message out immediately or schedule your call to be sent at a future date and time. You will choose your date and time by using easy to use drop down menus. If you are delivering messages to different time zones, our system will deliver at the specified time in each time zone, so you never have to worry about disturbing your recipients at too early in the morning or too late in the evening.
Our Voice Broadcasting Key Features
We offer some great options that will help you create the perfect experience for your clients or customers. Whether you are looking to just drop a simple outbound message or something more complicated and interactive, our feature set will allow you to easily create a voice broadcast campaign that will achieve your objective. If you are unsure of which features you want to use, or how to use them, you can take advantage of our free consulting services to help you design and set up a campaign that will meet your needs.
Live Answer, Voicemail or Both – You may choose whether to deliver to live answers, voicemails or both. The type of message that you are sending will likely determine which you choose. If you are just trying to drop a simple message to as many of your contacts as possible, you will probably choose both. Additionally, you have the option of delivering the same recording to live answers or voicemails, or you may want to deliver a different recording to each. You have the ability to choose on our system, and what you choose will likely depend upon the action you want your recipients to take.
Setting Your Delivery Time – You can choose to send your calls immediately, or you can set them for a later date and time. Additionally, if you need to send your voice broadcast over a number of days within certain time frames, you can do that as well. You can deliver at a certain time in each time zone, or you can deliver them all at once – the choice is yours.
Caller ID – The caller ID is the number that your recipients will see on their phones when you dial out to them. This will need to be a legitimate number per government regulations, not a "spoofed" number. Besides, if you want your voice broadcast campaign to have your desired result, you will want your callees to see who is calling them. You can maintain a number of Caller IDs in your account – for instance you may have several departments in your business using the account and they want to use different caller IDs.
Do Not Call Lists – You may have recipients who have requested that they not be contacted in the future. While you can remove them from your lists, that may be time consuming or you just want to be certain not to inadvertently call them. You can create a Do Not Call List in your account, so that anytime you send calls out your lists will be automatically "scrubbed" of those numbers and they won't be dialed.
Wireless Phone Number Removal – In many instances, it is against regulations to send voice broadcasts to wireless phone numbers without permission. If you have a list that may contain wireless numbers, but you haven't been given permission to call them, they you can easily remove those numbers from your list by using our wireless scrub feature, which will automatically remove wireless numbers and not call them.
Dial Rates and Retries – You have the ability to adjust how many numbers you want to call at a time. The dial rate will depend upon a few things, such as the urgency of your message, how many recipients are on your list, and the size of the geographic area you are calling. You also have the ability to retry numbers that were not initially reached and can specify the number of retries you want to make, and the time delay between the retries.
Press 1 to Transfer – if you want to be able to have your live recipients press a key to transfer their call to your operator, all you need to do is input the inbound phone number of your choice and designate a key press for your recipients. This is particularly helpful if you want your recipients to be able to reach you for additional information, or scheduling appointments. Additionally, you have the ability to pace these calls so that your operators are not overloaded with inbound calls. Just set the number of operators that you have available and the rate of the calls will automaticallyslow as your operators become busy, and then resume dialing as they are freed up.
IVR – If you are looking to obtain information from your callees, such as how they rate your services, you can set up a short survey or poll, and your recipients can respond to questions by pressing a key on their keypad. For instance, you could ask "Where you happy with the service we provided? Press 1 for extremely satisfied, press 2 for satisfied, press 3 for unsatisfied, press 4 for very unsatisfied".
Full Service Option
If you are not comfortable with setting up your own campaigns, or do not have the time to manage it, we offer our full service option. We will work with you to obtain your list and recording, and then we will set up, start and manage your calls and reports for you. All you have to do is sit back and wait for the results to be delivered to you. This is offered at no additional charge, except for IVR campaigns which incur a nominal set up charge.
Free Consultation
We have been in this business for decades and very knowledgeable about voice broadcasting and the options available to you. We are available for free consultation at any time. Let us know what your objective is and we can offer options and assistance that will help you achieve that objective.
We Offer Total Cloud Based Control
Your account acts as a single hub. From your account you can easily manage your call lists, create your calling campaigns, schedule the date and time you want your calls placed, and review the results of your calls. You can also reach out directly to us with any questions or problems that you may have, and we will be happy to assist you at no charge.
Telephone & Email Support
We are always here to answer your questions or help you set up your voice broadcast. Our customer service and technical support is available via email and telephone.
Have questions? Call us at 888-387-8636