Get-Out-The-Vote (GOTV) political robocalls for candidates and organizations can get your message out to targeted voters at a fraction of the cost of other media.

Beware of the 1¢ Robocalls
Sounds like a great deal, but prices can be very deceiving. What you may not realize is that many of your calls are never delivered. If there is a busy signal — you pay. If there is a disconnected line — you pay. If there is a wrong number — you pay. If someone hangs up in the first 6 seconds — you pay for a whole minute.
So, don't be deceived. The best value you can get is to only pay for delivered calls in 6 second increments. If your call doesn't get through to someone for any reason, you don't pay. If someone hangs up, you only pay for the time they were on the line — no more, no less. It's the best deal for our clients and it's just one of several reasons why we are proud to provide you the best service at the best price.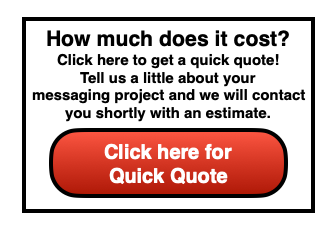 Political robocalls can reach thousands of targeted voters in minutes.
Dramatically cut campaign costs and target your message.
Full one-on-one personal service to upload your lists, make your recording, and launch your job.
We offer the best value because we only charge for connected time. There is no charge for busies, no answers or disconnected phones. If someone hangs up before your message completes, you only pay for the time they were connected.
Leave messages to live answers and voicemail (answering machines.)
We use high quality carriers to phone voters to guarantee the best quality broadcast.
Encourage voters in your own voice why their vote counts. Explain how your ideas will address their most urgent needs.
Perfect for responding to last minute attacks by setting the record straight.
Thank petition signers or let voters know when campaign workers will be in their area.
The easiest, most effective and least expensive way to alert people about upcoming events, especially those planned at the last minute.
Use the voices of popular and respected citizens to endorse your candidacy.
Highly reliable reporting to insure there is no charge for calls that don't connect.
How Can Political Robocalls Help My Campaign?
Nothing is more powerful than enabling voters to hear your ideas — directly from you! Campaigns don't run on auto-pilot. In order to be effective they need to be designed with the right message, sent at the right time, and delivered to the right constituency. Since most campaigns are close and ultimately decided by less than a few percentage points, it's critical you have every advantage. That's where robocalls come in. Now you can make sure your supporters get out and vote, while convincing independent and undecided voters that you are their best choice for the future.
What is the Best Way to Send Robocalls to Voters?
Tailor your robocalls to particular groups. For example, you can send one message customized for senior citizens, and another message about a hot topic that is a priority in a selected town or region. Because you can create different messages for different campaign constituencies, you can better target your robocall to those who will respond and appreciate it the most. Robocalls are the least expensive way to drop targeted messages to specific voter groups. Now you can reach thousands of voters in minutes for a fraction of the cost of other media purchases.
Why is Monarch Broadcast the Best Place to Handle Robocalls?
Running a political campaign is challenging enough, without worrying about managing the delivery of your political robocalls. With our full service, we'll upload your list, help you with your recordings and drop your messages at the time you want. We have the most experienced, professional and personal service available in the industry. We deliver reports to you within 24 hours, or as rapidly as you need them.
Can I Leave a Message on Voters' Voicemail?
Yes! We program your calls to deliver your voice message directly to voters who answer live and/or their voicemail. If you prefer a different message for answering machines/voicemail, we can do that too. We use the highest quality and most reliable phone technology available, with rock solid and dependable reporting capabilities.
When Campaign Timing is Critical, Political Robocalls Save the Day.
Have to respond to that last minute attack? No problem. Record your response and set the record straight. Your voters will have the information the same day. We do not provide services to opposing candidates in the same campaign, so don't be left out at the last minute because other candidates act sooner. Take advantage of our broadcasting technology and get your political message out when it's needed the most!
NOTE: California and Indiana political calls need live operator to introduce pre-recorded message.
There are special laws in California and Indiana that require a live operator to introduce and obtain consent from the voters to listen to a pre-recorded message from the candidate. No problem! Our Online Phone Dialer service can help operators deliver more messages in less time than any other service available. Best of all, there is no equipment, hardware or software to buy and you can get the service on a temporary basis.