Blast your pre-recorded messages over the phone to all your contacts instantly with our phone broadcasting services. Leave messages to live answers and voicemails. The fast and economical solution to distribute important announcements and news.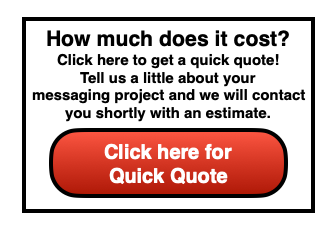 Phone broadcasting services get your messages, alerts and notifications, to your contacts in minutes.
Two different account types available – full service or self service. Either way, we are here to help you every step of the way.
No need to buy any hardware or software.
Deliver to both live answers and/or voicemail (the same or different messages)
Create recordings over the phone, or upload audio files to your account.
System ready to access 24/7 for any urgent or emergency applications.
Save costs by only paying for messages that are actually delivered.
Launch your calls instantly, or schedule your phone broadcast for later delivery
Press 1 to transfer capabilities
Scalable for 50 recipients or 5 million – there is no limit
Six second billing increments with no minimum message length
Sending Important Information to Contacts Fast
Our phone broadcasting services are the fastest and most efficient way to deliver your pre-recorded messages to customers, constituents, students, members and associates. If your contacts are not available to hear your message first hand, our system will leave a message on their voicemail so they can access it later at their convenience.
No Long Term Contracts or Monthly Minimums
With our pay-as-you-go billing, you only pay for the time you use, when you use it. So you are never charged a monthly minimum for a service you did not use. You can use the phone broadcasting services once, or every day — whatever works to get your messages out.
Full Service Option: Let Us Send Your Messages For You
Contact us to set up an account.
Prepare your list of phone numbers in an Excel or database spreadsheet. You'll need the area code and phone number (10 digits) in one column.
Record your voice message over the phone. Or, if you already have a recording you like, just email it to us
Let us know when you want to send your message out.
Self-Service Option: Use Our Web Interface to Send Your Messages
Contact us to set up an account (no cost.)
We will send you your user ID and password and instructions
Login to your account to upload your list, create recordings and send your calls
Your reports will be immediately available to you in your account after your calls complete
If you choose our Self Service option, it doesn't mean you are on your own. To the contrary, we are available to help you anytime!
How to Save Money Using Phone Broadcasting Services
The least expensive way to phone broadcast robocalls is to pay for "connected time" only. Since many of the phone numbers on your list will be unreachable (bad numbers, no answer, disconnects, etc) there is no reason to pay to deliver every single number. And if someone hangs up in the first few seconds, there is no reason to pay for the entire length of the message. We provide you the best value because you only pay from "pick up to hang up." Our customers appreciate the savings!
What are the Robocall Laws?
There are strict federal and state laws that you need to obey or you will be subjected to heavy fines. In a nutshell, you cannot send a recorded messages to a cell phone number without written permission from the person you are calling. In general, it is against the law to send marketing or sales calls. However, informational calls (schedules, cancellations, reminders to your members, existing customers or associates) are permitted. Political robocalls are subject to individual state laws you can find here.