Use "Ringless Voicemail" to unobtrusively deliver messages directly in voicemail without ringing any phones or interrupting any of your contacts. The system bypasses your recipients' mobile phones by delivering your recorded announcement into their voice mailbox, rather than ringing. Fully compliant with FCC rulings.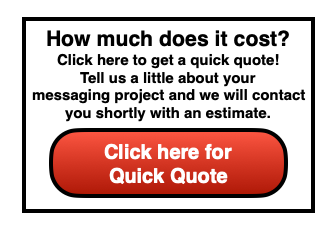 Drop your recorded messages directly in voicemail.
Your contacts won't hear their phones ringing, nor will they have to answer the phone.
Recipients listen to your message at their convenience.
Easy set-up and legally compliant.
Auto stop feature available to stop delivery when thresholds met.
Full reporting on deliveries.
Built in national DNC list scrubbing.
List Separator to sort mobile numbers from landlines.
Standard packages billed by successful drop or unlimited plan with flat monthly fee.
Ability to send to mobile and landline voicemails.
What is Ringless Voicemail?
Ringless voicemail sends a pre-recorded message to your contacts without ringing their phone, but delivers your message directly to their voicemail.
How Does Ringless Voicemail Work?
When your message is sent out, it doesn't go to your recipients' actual phones. Instead it interacts with the backend of your recipients' phone provider and enters the voicemail system. Your message is left in their voice mailbox and they will receive an alert that they received a voicemail. Your recipients can then listen to it at their convenience.
Is Ringless Voicemail Only for Mobile Phones?
No. While it is used primarily to reach mobile phone numbers, it can be sent to landline phones that have voicemail. There is no need to worry about dividing your list between phone types. Our system automatically "scrubs" your list when it is uploaded into the delivery system, and keeps only the numbers that have voicemail boxes and compatible for ringless voicemail delivery. In addition, you only pay for successfully delivered messages, so if we can't access certain voicemail boxes, there is no charge for those numbers.
What are the Benefits and Advantages of Using Ringless Voicemail?
Like all forms of communications, ringless voicemail fills a niche that isn't covered by other services. Currently, it is against regulations to call mobile numbers and deliver pre-recorded messages without those recipients opting-in. But ringless voicemail doesn't deliver to phones, it only delivers to voicemail, so it is compliant with the regulations. For instance, you may want to deliver a pre-recorded message to a group of people but do not want to disturb them during their work day by having their phones ring.
By using ringless voicemail, you can deliver your message at your convenience, but your recipients can listen to the message at their convenience, whenever they access their voicemail. In addition, ringless voicemail does not cost your recipients anything — it does not count against the minutes on their mobile phone plan. This is a very important distinction and one of the reasons why ringless voicemail is FCC compliant, in addition to not ever ringing the phone.