Phone Broadcasting Laws and Regulations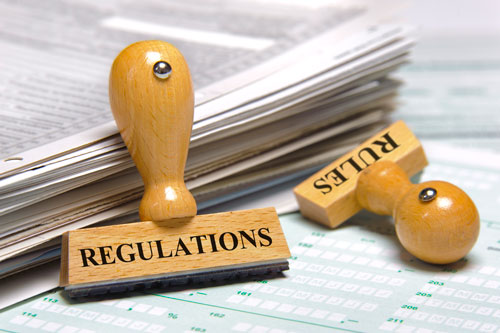 There are strict laws governing the use of phone broadcasting. It is against the law to use an automated dialing system to send a prerecorded phone message to promote or sell a product or service.
In order to send such a message, you must first obtain his or her written permission.
There are some companies who sell "scrubbed" phone lists. Do not buy one of these lists.
It is not legal to sell a person's information to another company.
You need written permission to send any telemarketing or sales messages.​
It is also against the law to send ANY pre-recorded message, or mass text, to ANY cell phone without opt-in permission.
The Federal Trade Commission adopted this new rule in 2009 and strictly enforces it.
They also make it easy for consumers to report complaints. Fines are as much as $16,000 per phone call!
You can get a summary on all the regulations by going to this government website.
Phone Broadcasting Systems and the Law
When it comes to phone broadcasting systems and the law, we encourage you to get professional legal advice.
We do our best to protect our clients from unwittingly breaking the law.
We will not knowingly allow our phone broadcasting system to be used for illegal purposes.
Monarch Broadcasting requires our clients sign a waiver protecting us from any actions that are not compliant with the law.
We decide which companies we do business with.
Are the Laws Different When Contacting Land Lines?
Using phone broadcasting systems when contacting land lines is easier than with cellphones.
You should always check with all the existing laws before moving forward.
Some of the permitted calls by phone broadcasting systems are:
Informational Calls– Businesses can send courtesy calls involving flight cancellations, appointment reminders, school closings, and more.
Political Calls– You can send political calls in some states. However, several states have banned them completely.
Debt Resolution Services– Debt collectors can also use pre-recorded messages to alert you of unpaid debts and fees.
Charities– If you work for a charity, you can send phone blasts to past contributors under certain circumstances.
New Legalities Sending Robocalls
Phone blasting, voice blasting or phone or voice broadcasting are all types of robocalls.
There are a number of companies that began years ago and are not using up-to-date practices.
We are not lawyers, but we have been in this business a long time.
We are always happy to provide you sources you can review to make an informed decision.
What About Informational Calls?
Please note that "informational calls" are perfectly fine to send, and don't have any restrictions. For example, an informational call would be sending pre-recorded messages that would:
Notify customers of airline flight cancelations.
Alert parents of school closures.
Express the location of a blood drive.
Remind a patient of an upcoming doctor or dentist appointment.
Regulations for Charitable Organizations
Non-profit agencies can also phone broadcast pre-recorded messages. However, the FTC says these calls must include a prompt key or other way to op-out.
You can send pre-recorded messages but you need to include an opt-out feature so people can take their number off your list.
Political Robocall Regulations
States regulate political robocalls.
Some states allow political candidates to send messages to everyone, even those on the Do Not Call list.
Other states like California are very restrictive.
They require a live person is doing the calling and ask the voter for permission to hear a message.
Requirements for Telemarketers
Telemarketers must comply with the Do Not Call list. This is a costly and time-consuming process. Prior to these regulations, just having a "prior business relationship" was enough. You now need written permission, even from your existing customers, before sending a voice mail message.
We automatically scrub your list of cell phone numbers to prevent that costly mistake from happening.
Phone Broadcasting Use Increasing for Institutions
Robocalls are seeing an increase in usage among non-profit institutions. Schools, colleges and universities are using them to get announcements out.
You can use robocalls to send out reminders for admission and payment deadlines, special alumni events and emergencies.
Many schools use email and texts to send messages, but not everyone checks their email all the time.
A good deal of text messages are never delivered because they are lost or delayed in cyberspace.
On the other hand, robocalls can be delivered to thousands of people within minutes.
They can then be played if answered by a live person or can be left on voicemail for later retrieval.
A big advantage: Everyone is within arm's length of a phone these days.
Phone broadcasting technology exists that can deliver your messages instantly.
You can proceed on a pay-as-you-go basis.
First, write a script of your message you can record over the phone.
Second, give us a list of phone numbers of your contacts.
Then, tell us when you want to send your message. It's as simple as that.
Overall, robocall services can help you send critical communications quickly to your contacts for a fraction of the cost.
You can reach thousands of people in minutes for the fraction of the cost.
We can help you begin sending out effective voice blast messages quickly and easily.
Can You Phone Broadcast to Get Network Marketing Leads?
It is against the law to broadcast pre-recorded messages over the phone to get leads for network or direct marketing.
You must first obtain written consent from those you are calling.
Fines can be very heavy and that doesn't count what it will cost you in attorney fees.
Keep in mind you will be up against the federal government which has unlimited legal resources at its disposal.
"Scrubbing" your phone list against the National Do Not Call database is enough.
That is not true.
There are new Federal Trade Commission regulations.
It is now illegal to send a pre-recorded call for sales purposes.
You must first receive expressed written permission before you can make a sales call.
You also might be told that since you are just getting leads and you "aren't selling anything."
That is also not true.
If you are in a network marketing organization, you can send informational messages to members who have given you permission.
Check with your own attorney before you send prerecorded messages to business phone numbers.
Regulations also prohibit ANY phone broadcasting of prerecorded messages or texts to cellphones.
Fines for Breaking Phone Broadcasting Laws?
There are savvy people who are waiting to get these unsolicited calls and pounce on you.
They are eager to get you to pay them a few thousand dollars as they threaten to take their case to federal authorities.
Telemarketers have paid up because they know it's even more difficult and expensive to deal with the feds.
Monarch Broadcast Messaging follows the letter of the law.
For more information call us at 888-387-8636 or check out our phone broadcasting webpage here.